Burlington has a number of pre-schools, elementary schools, high schools, independent schools and post-secondary institutions.
Public system in Burlington:
There are two main school boards: Halton District School Board and Halton Catholic District School Board. For both school boards, school registration and busing is based on geographical zoning.
Sometimes, you can change your school of attendance. Optional attendance (transferring schools) is the process where students can apply to attend a school other than the school designated for their area of residence. Students can apply to a school outside of their home school if there is enough space to accommodate them.
For more information, refer to
Transfer Schools within the HDSB
Students who transfer to another school are not eligible for Board provided transportation.
To find the school in your area go to:
HDSB
HCDSB
Additional school boards:
Conseil scolaire catholique MonAvenir
- has 1 elementary school and one high school in Oakville.
Viamonde schools
- network of French-language schools. They have 2 elementary schools and 1 high school.
Burlington Independent schools:
The private schools provide a wide range of educational options for families to choose from including elementary, secondary, and Montessori.
Ashwood Glen Nursery to Gr. 8 Coed
Burlington Christian Academy JK to 8 Coed
Fairview Glen Montessori NS to 6 Coed
Glenn Arbour Academy JK to 8 Coed
Halton Waldorf School NS to 12 Coed
Burlington Royal Arts Academy 9 to 12 Coed
Blyth Academy Burlington 5 to 12 Coed
Trinity Christian School JK to 8 Coed
Fern Hill School - Burlington PS to 8 Coed
Post Secondary in Burlington
McMaster University, DeGroote School of Business
Ron Joyce Centre
4350 South Service Road
Burlington, Ontario L7L 5R8
McMaster University
POST-SECONDARY EDUCATION
The population of Burlington is well-educated relative to Ontario. Out of the 95,995 adults aged 25-64, 70,495 (73%) have post-secondary education, which is above the Ontario average of 65%.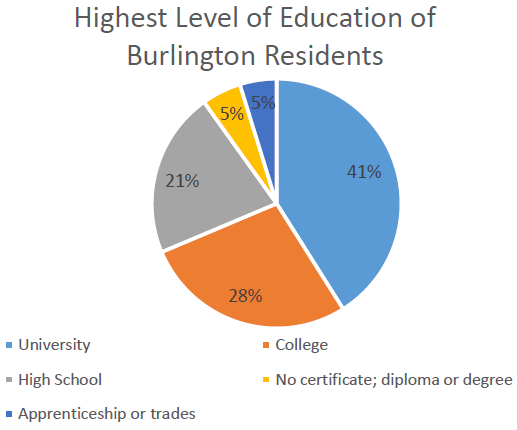 You can check the
Elementary school
or
High school
ranking as per Fraser Institute report.
If you are looking for a new home use the
Find a School
tool to find your home school based on your home address. This will help you with a detailed look at Halton public schools including school boundaries.
If you think about relocating and looking for a new home, need help with finding the best neighborhood for your family, please
contact me
and I will be glad to help you!